Problem Resolution for the Long-term.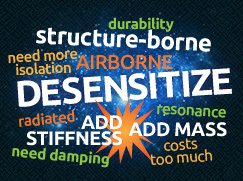 Ultimately, customers equate product quality by its sound and vibration characteristics. If it doesn't sound right, something's wrong. If not resolved quickly and effectively, your reputation could be at risk. And, while pointing fingers might be convenient, it contributes nothing to trouble resolution.
Often, unexpected noise appears during prototype assembly or at product launch. In both cases, people tend to look for quick and inexpensive "silver bullet" fixes to control hemorrhaging. While this approach might get you over the initial bump in the road, it's a long-term battle you cannot win.
How many times have you stated, "We do not have time to use a formal process to determine the cause of the noise?" Or have you ever heard, "We tried that and it did not fix the bearing noise"?
A Disciplined Approach
Phase1 Acoustics applies a methodical process to help you improve unacceptable product noise and vibrations and avoid future setbacks. We specialize in accurate evaluations and realistic solutions for problems late in the game when the last thing you need to hear is, "You should have done this." Our philosophy includes disciplined problem solving tools. Let's not focus on which tool; let's focus on using the tool.
Understanding that today's issues can and will likely be resolved, Phase1 Acoustics will help your organization focus on the horizon. By looking beyond today's setback and redesigning an improved release or next-generation replacement, we can leverage success for tomorrow!
Let's talk about how you got there and how Phase1 Acoustics can help you overcome today's obstacles and be better positioned for tomorrow's challenges.